The side and power button of my E51 had been completely worn out after just 1 year of usage. The quality of the buttons is really bad. Anyway I was looking for replacement buttons and I came across a listing in eBay for the complete housing including keypad, front cover, back plate etc for about $8 ~ Rs 375. Nokia Original one sells for Rs 1500+ I think.
From the pictures, it looked really good so I ordered it immediately. The seller is from Hong Kong and ships it via normal airmail, so it took about 2 weeks to reach me.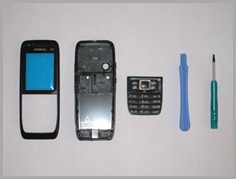 Overall the quality was good, the seller even included the necessary screwdriver and tools to open the case.
If you wondering how to open up the case take a look at this guide. Provides detailed info on how to disassemble the case and assemble it again.
There are housings available for almost all phones in eBay for very attractive rates. So do checkout eBay  if you are looking for replacement cases for your phone.